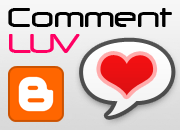 Good news for our blogs avid readers and followers! We are now CommentLuv enabled!
Now, what on earth is CommenLuv? According to the plugin author:
This plugin will visit the site of the comment author while they type their comment and retrieve a selection of their last blog posts, tweets or digg submissions which they can choose one from to include at the bottom of their comment when they click submit.

It has been found to increase comments and the community spirit for the thousands of blogs that have installed it. With a simple install you will immediately start to find new and interesting blog posts, tweets and diggs from your own blog and community.
In short, commenting on digiknowzone just got better! When you post comments on any of the recent blog posts, you can now showcase your site's posts as well. This is
our way of showing our gratitude to your unending support and enthusiasm!
CommentLuv rewards your readers and helps you discover new and interesting posts by automatically adding a titled link to the comment authors last blog post when they comment.
And as an added bonus, here's how you could also enable CommentLuv for your blogspot blog:
1. Register to these sites(don't worry the services and plugins provided are FREE):
NOTE
: When registering to these sites, fill up all the necessary information especially about your blog sites. The email that you should use is the email you used for your blogger account.
TIP
: Getting tired of uploading the same pictures individually after you register for different accounts? Just get a GRAVATAR. Most social network sites and blog community sites recognize your registered gravatar. You can get your own gravatar
here
.
2. Once done, go to the email address you used to register to those sites. They would require activation or verifications so just click on the verification/activation links and your done.
NOTE:
I would advise that you log in to your blogger account before you proceed to the next steps.
3. Now, login to your IntenseDebate account. Once logged in, click on the 'Sites' tab. Then click on the 'Add blog/site' button.
4. You will then be asked to provide your blog's/site's url. Then proceed to the next step.
5. A side bar will appear and provide you with choices on how you would want to insert the plugin to your site. In my opinion, it's better to use the template mode and select on the 'on all blog posts' selection as well.
6. As instruction provides, just click on the 'Open Blogger.com' link.
7. You just have to follow the next steps provided by IntenseDebate.
8. And your done!! Happy blogging and goodluck on making your blog communities grow!